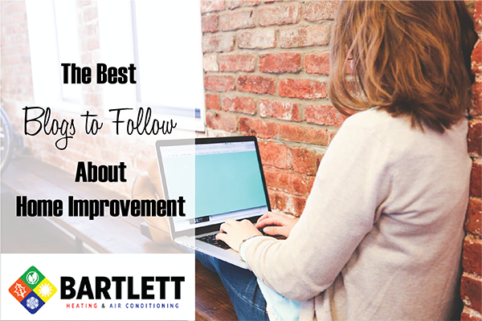 From direct assistance from a professional contractor to inspiration on room design, we've compiled our top 10 best blogs for home improvement. No matter the scope of your project or your confidence in your DIY building or design capabilities, these home improvement blogs will help keep your project on track and on budget!
Haeley is extremely creative at making the most of what she has and revamping small and large spaces with quick and easy crafts for those on a budget or looking to spruce up their homes!
From floating military wife, to independent DIYer, Ashley of Domestic Imperfection is an extremely passionate and self-made home improvement expert. Take advantage of Ashley's organization plans, project tips and step-by-step DIY projects.
If you're wondering why these two DIY enthusiasts look familiar, it's probably because they are team black on HGTV's Flipping the Block! Whitney and John help their followers make the most of their vintage or lesser quality furniture and everyday household items.
With her motto, "Fabulous for less", Kate Riley shows her visitors how to achieve high end without allowing their budgets to bend. Kate has a terrific eye for style and is an avid bargain hunter to keep her followers aware of the best deals for their DIY and design projects.
#6 Reduce, reuse, recycle, re-purpose, remodel –
Remodelaholic
Working on their 5th remodeling project, Cassity and Justin Kmetzsch are certainly a DIY power-couple to keep your eyes on for any remodeling or design inspiration needs. They have a beautiful family and their goal is to help inspire you to create something beautiful in your home with detailed project plans, how-tos and before & afters.
It's always great to get multiple perspectives in your blogs and that's what you'll find at Homey Improvements through married couple, James and Alicia. James works in construction and contributes to the bulk of the DIY and home improvement project posts, while Alicia provides a more domestic and green perspective with posts on topics like meal prep and how to make your wardrobe more eco-friendly. Followers will also get a touch of southern charm with posts on homesteading and helpful home advice.
2 couples equals 4 inspiring DIY and home improvement experts for those who follow One Project Closer. Ethan (Multimedia and project guides) is married to Jocie (Style and home decor trend spotter), while Kim (DIYer and couponer) is married to Fred (The tool guy). All together, each person brings a different aspect to home improvement that keeps their visitors organized, informed, inspired and on-budget for their DIY projects.
From brutally honest DIY and lifestyle posts, to innovative dueling DIY projects, Sarah doesn't hold back and that's what her followers love about her. Sarah will make home improvement look easy, while telling you why it's not and in doing so, help you avoid the many pitfalls that can occur during a renovation or even a simple craft project. Plus she has an adorable dog named Charlie that has her own section on the blog for those that just need some stress relief.
#2 Full service DIY advisement –
Ask The Builder
The oldest active home improvement site on the internet, Tim has literally done it all with his own two hands. Ask the Builder started as a newspaper column in 1993, when Tim was already a nationally recognized remodeler. With all of his decades of experience, Tim still dedicates himself to helping everyday homeowners through his blog by producing helpful videos, project plans, Q&As and even calling those who submit project questions to consult with them for a small fee.
Brittany Bailey is a no-nonsense type of gal with a mantra to match – "If someone can do it, then there's a 95% chance that you can do it too!" From plumbing and electrical to photography and gift ideas, Brittany is an ultra-talented go-getter that can't be stopped. If you're looking to get inspired to take on your first DIY project or trying to gain the confidence to tackle a bigger remodel, Brittany is your gal!
As part of your home improvements, don't forget about your home comfort and air quality. If you live in the greater Chicago area, Bartlett Heating & Air Conditioning would love to improve your home by providing exceptional HVAC services. Allow us to inspect your furnace after a long winter or prepare your unit for the hot summer to come. Contact us to schedule your technician's visit today!
https://bartlettairheat.com/wp-content/uploads/sites/31/2017/04/BartlettTheBestBlogsToFollowAboutHomeImprovement.png
400
600
agreenwood
https://bartlettairheat.com/wp-content/uploads/sites/31/2016/04/logo-bartlett.png
agreenwood
2017-04-21 17:59:21
2017-04-21 17:59:21
10 Best Blogs to Follow About Home Improvement