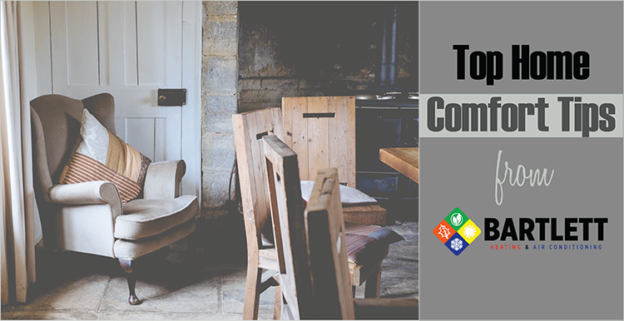 Bartlett Heating and Air Conditioning has been providing the very best in home comfort products and services since 1978. Along the way, we have learned some of the best ways for Bartlett homeowners to keep their home comfortable no matter what the outdoor thermometer reads. Below are some of our favorite articles from the blog archives about home comfort.
Articles on How to Keep Your Home Comfortable
We have reached back deep into the blog archives to share some of our top blog posts on home comfort. Bartlett homeowners can use these tips to stay comfortable in every season:
Regularly Changing Your Filter is Important!
Indoor air quality is an important part of home comfort. Most homeowners know they should change their air filter regularly, but they may not know the reasons why. This short post explains why changing your air filter regularly is vital for maintaining a clean, healthy, and comfortable home environment year-round.
Monitoring and controlling humidity in your home helps you maintain a more comfortable home climate. This short post explains a little bit more about how humidity can impact your home comfort and explains some ways to control humidity in your home. If you think you may need a dehumidifier in your home, contact us for more information.
What You Need to Know About Your Furnace and Carbon Monoxide
Did you know that an old or malfunctioning furnace can allow carbon monoxide to leak into your home? In order to maintain indoor air quality and keep your family safe, it is vital that you get routine furnace maintenance each year. To learn more, check out this post, which covers all that you need to know about carbon monoxide, its health impacts, and how you can prevent CO poisoning in your home.
5 Ways to Optimize Home Comfort
There are many aspects involved in keeping your home environment safe and comfortable for you and your family. The advice in this article will help you keep your home comfortable year-round. From making sure your home is clean and healthy to controlling your indoor climate, these tips will help you optimize your home comfort levels by creating a healthier, cleaner, and cozier home environment.
4 Tips for Keeping Your Home Comfortable During the Holidays
The holiday season is one of the most hectic but fun times of the year. Whether you're hosting guests, throwing a party, or participating in other fun holiday activities, you can use these top tips for keeping your home comfortable for your family, friends, and other guests during the holiday season. As an added bonus, many of these tips will work no matter what time of the year it is!
Are you looking for more information on keeping your home comfortable year-round? Check out our blog, which is updated weekly, or follow us on Facebook, Twitter, or Google+ for more great articles and company updates.
http://bartlettairheat.com/wp-content/uploads/sites/31/2017/01/BartlettTopHomeComfortTipsfromBartlett_Jan20.png
386
750
jbenbrook
https://bartlettairheat.com/wp-content/uploads/sites/31/2018/04/logo-bartlett-1-300x101.png
jbenbrook
2017-01-25 16:36:53
2017-01-19 16:41:28
Top Home Comfort Tips from Bartlett